Services
Nancy Hausauer maintains a private energy healing practice in Tacoma, Washington (U.S.).
She also writes extensively about energy healing, other forms of alternative healing, wellness self-care and spirituality. Her website The Energy Healing Site is one of best sites available for general, non-commercial information about energy healing. She is the author of the weekly blog The Energy Healing Blog as well.
Time permitting, she is available for expert interviews about energy healing.
Occasionally she can be prevailed upon to teach a class.
Chakra Care:
Do-It-Yourself Energy Healing for a More Joyful, Loving, Fruitful LIfe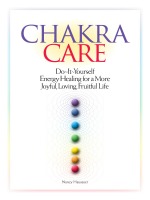 This 130 page e-book explains the 7 chakras in a friendly, accessible way and gives nearly 500, down-to-earth activities to clear, nourish and balance them. Learn more or buy it here.